If you bought a NEW or REBUILT ECM from us and have now discovered the ECM was not the issue or have simply changed your mind, we have a solution. While every other ECM provider would leave you stuck with a ECM you don't want or need, MAKS allows you to convert your purchase into a Daily Rental within 30 days of your purchase, and send the ECM back in its original box.  See our Warranty Information & Returns Policy for more information.
When we receive the new or rebuilt ECM, we'll give it an inspection and issue your refund less the Rental Fee. After completing the below form, you will receive an email with a rental request number. Ideally, print the email and pack it in the box with the new or rebuilt ECM per our Packing & Shipping Guidelines. If you don't have access to a printer, please complete the form below anyway as it helps us be in the lookout for your ECM and to schedule a faster refund when we receive the ECM, but in that case include a note in the box with your name, email, telephone number, and the Rental Request Number.
packing & shipping guidelines
If you still have the original box, pack your ECM securely in it along with a detailed note or printout of the Return Form Confirmation email you will receive after submitting the Return Form. If you no longer have the original box, take your ECM to the nearest post office and ask for the Priority Mail Medium Flat Rate Box. (Some extra large Cummins Diesel Engine ECMs may call for the Large Flat Rate Box). Don't forget to bring packing tape. Padding materials (foam peanuts / bubble wrap can be purchased at the post office, or bring your own. Use our prepaid return label.
IMPORTANT!  Plastic plug receptacles are easily broken during shipment if not properly packed.
Pack as shown: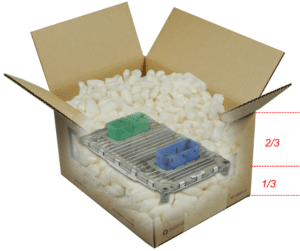 Put 1/3 of padding materials (foam peanuts or bubble-wrap) beneath ECM.
Pack ECM centered with flat side down. Plugs should be facing up.
Put 2/3 of padding materials around and above the ECM.
Fill completely to the top before sealing box.