SENDING US YOUR OLD ECM UNDER OUR CORE BUYBACK PROGRAM?
After your new ECM is installed and working fine, save the box and ship us your old ECM under our Core Buyback Program. 
When the time is right, fill out the following form and click on Submit. After completing the form, you will receive an email with a Core Return Number. Pack the ECM in our original box per our Packing & Shipping Guidelines below. Include a note in the box with your name, email address, telephone number, or the Core Return Number.
If you are not a MAK'S customer but have old ECMs or PCMs you'd like to sell, call us at 1-818-798-5558
packIng & shipping guidelines
If you still have the original box, pack your ECM securely in it along with a detailed note or printout of the Return Form Confirmation email you will receive after submitting the Core Return Form. If you no longer have the original box, take your ECM to the nearest post office and ask for the Priority Mail Medium Flat Rate Box. (Some extra large Cummins Diesel Engine ECMs may call for the Large Flat Rate Box). Don't forget to bring packing tape. Padding materials (foam peanuts / bubble wrap can be purchased at the Post Office, or bring your own. Use our prepaid return label.
IMPORTANT!  Plastic plug receptacles are easily broken during shipment if not properly packed. Pack as shown: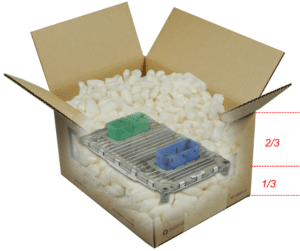 Put 1/3 of padding materials (foam peanuts or bubble-wrap) beneath ECM.
Pack ECM centered with flat side down. Plugs should be facing up.
Put 2/3 of padding materials around and above the ECM.
Fill completely to the top before sealing box.